Thrifty Thursday: Vintage Landscapes & Thrifty Decor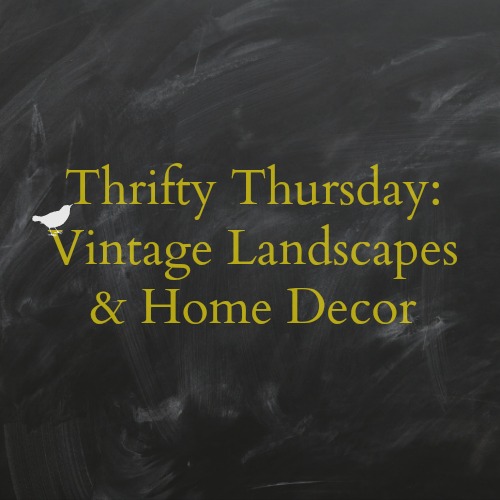 Each week I make it a point to drop in my local thrift stores and browse for treasures. Sometimes I find pieces that speak to me and sometimes I come out empty handed. I always decorate by heart—meaning I buy what I love if it's within my price point even if I don't know exactly where I'll put it or how I'll use it right away.
In this post, I'm sharing a few of my recent finds and how I've used them in my home. I hope you'll be inspired to buy what you love and use it to make your house a home.
Vintage Landscapes
Eric and I went to Vintage Pickin' in September and had a wonderful time. I didn't buy anything (I wasn't feeling well and the heat didn't help) so we headed home and made a few stops at a few of our favorite places.
(The Vintage Pickin' Christmas Market is November 16-17 and tickets are on sale now!)
I came home with this:
I paid $1 for each of the of the tulle/lace skirts and have plans to use them later.
I also paid $1 for the landscape picture.
I took the picture out of the frame. It was in pretty bad shape from water damage.
My idea was to use a mat to cover the damaged areas and trim the excess from the picture. I purchased a 16×20 white mat at Hobby Lobby and used a 40% coupon so I only spent an additional $3.00.  I cleaned layers of dust and grime off the glass and frame. The wooden frame had some damage but I don't mind. Here's the result:
I love how the updated vintage landscape, some old books I found recently, and an old cowbell look on top of my refrigerator.
Thrifty Home Decor
Thrift stores always have these silver trays and I prefer them tarnished.  I used this one to hold my Caldrea products in the kitchen. I don't have a dishwasher so I love to use great smelling dish soap when I'm washing dishes. The countertop spray is part of the set. I love to use it on my countertop, kitchen table, and DIY Chalk Painted coffee table. Love the way it makes the house smell.
I found this cute art at the thrift store recently and added it to the piece I moved into the laundry room.
If you follow me on Instagram you probably saw my fall mantel. (This isn't a great photo. The lighting is really weird.)
I went to a yard sale last week and picked up this pretty lace, velvet ribbon, and string all for $0.50. I brought it home and decided to add it to the mantel. (The lighting is much better in the next photo!)
I love making our house a home—a place that tells our story and reflects the things we love. As always, I hope this post—my words and pictures—will inspire you to make your house a home.
It's not the house I love but the life that's lived in it.
---